STEVE BACKUS - songwriter, bass, vocals. Played in Los Angeles in Lust Sex & Lunacy and in Boston in Excalibur. Studied music and math at Occidental College in Los Angeles.
JOE MEUNIER - songwriter, guitar, bass,vocals, keys, rythym machines, engineering, mixing, production. Played the east coast with Shine and Dirty Nurse.
Pat Donovan - Vocals, guitars. Songwriter - N.E. Conservatory of Music, Berklee College of Music,lyricist; won gold medal at 1984 Olympics for shot putting. OK Just kidding. Loves being serious...
Mark Booth - Lead guitars
Mark Karras - Drums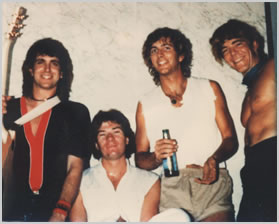 Play a game with the band members!!!